---
Casey Fallen - Atmospheric Disturbances:

"...what is revealed is the tone of prevailing truths within the mountain of glitter and lights."
"Fallen is a unique artist that knows his way around a catchy song and a listener's heart."
-
Amy Jensen, Rock n' Roll View
---
"...listen to the first few tracks: "Fragile", "Last Glance" and "city Lights" and "Fox in a Box" you will quickly be blessed and enlightened by the musical presence of Fallen and Osborne."
"...the amazing arsenal that Osborne and Fallen bring to the table jointly via powerful yet light hearted lyrics, passion, power, vision and a honed songwriting craft that goes much deeper that the next Independent Artist."
Thomas Neff, Indie Music Reviews
---
Casey Fallen - Atmospheric Disturbances: "...rock foundation, painted against a melodic backdrop of sound and touches of guitar, keyboards and some entertaining solos and drum/bass backbone. All of this layered instrumentation really hits home...
testament to Osborne's role here
."
"...
an exceptional 13 Track CD...delivered to us by a driven and talented writer
."
-
Jared Kelly, MusicEmissions
---
"Kudos goes out to the behind the scenes work from Osborne.
Guitar work is amazing and the production effort really brings it all together.
Osborne is listed as the producer."
" "Cocktail Party" is a richly syncopated mostly jazz-inspired song with truthful convictions providing musical meandering
teetering on brilliant
."
-
Michael Hall, Vents Magazine
---
"This latest CD by Casey Fallen is real. Real in the sense that it will show you a real snapshot of someone's life through their music and also give you a sense of hope that rock is not officially pronounced dead yet."
-
Wayne Perino, bandblurb.com
"...a solid release with many solid grooves with a guitar driven sound and entertaining vibe..."
---
"...the team of Fallen and Osborne ... are the key ingredients that make "Atmospheric Disturbances" not only work but make it the best Casey Fallen to date."

"... there isn't a weak piece on this entire 13 track set."

"a beautiful ambient backdrop, raw emotion and a popish twang."
-
Denise Chadwick, Skope
---
---
"I could listen to Osborne play solo guitar all day".

"Casey Fallen and Doug Osborne make an impressive pairing."

"These songs are passionate, real, interesting, alluring, and consistently well delivered."
-
Sharon Pike, Indie Artists Alliance
---
---
"...progressive pop and his songs do remind us of other artists...but he doesn't seem to be copying or aping any single artist's sound. This is a different sort of album coming from a different sort of perspective...and it works. Thirteen well-crafted tracks here including "Fragile," "Flight," "Runaway," and "Atmospheric Disturbances."
-
LMNOP on BabySue.com
---
"In one moment, he gives us dark wave songs in the same vein as Joy Division and Depeche Mode.
In other moments, he leans more towards ambient space rock a la Camel and David Gilmour. Just to surprise me the next second with jazzy electronica sounds of Tangerine Dream meets Sade´." -rothnroll
---
---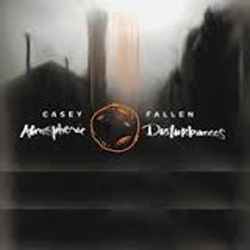 Casey Fallen has released his second full length album. In the classic Casey Fallen style, there are songs for every mood, covering everything from love, confusion, loss, frustration, and euphoria. The music was created with the listener in mind, created to give comfort and validation for ones life events. Casey Fallen makes music that is a companion; a friend that understands. Casey Fallen was created to be the soundtrack of your life.
Buy Casey Fallen - Atmospheric Disturbances on CD Baby
Doug Osborne produced, mixed, co-composed, and played guitar, bass, vocals, keys, and drums on Casey Fallen - Atmospheric Disturbances.
---